Blueberry and Coconut Kefir Panna Cotta Pots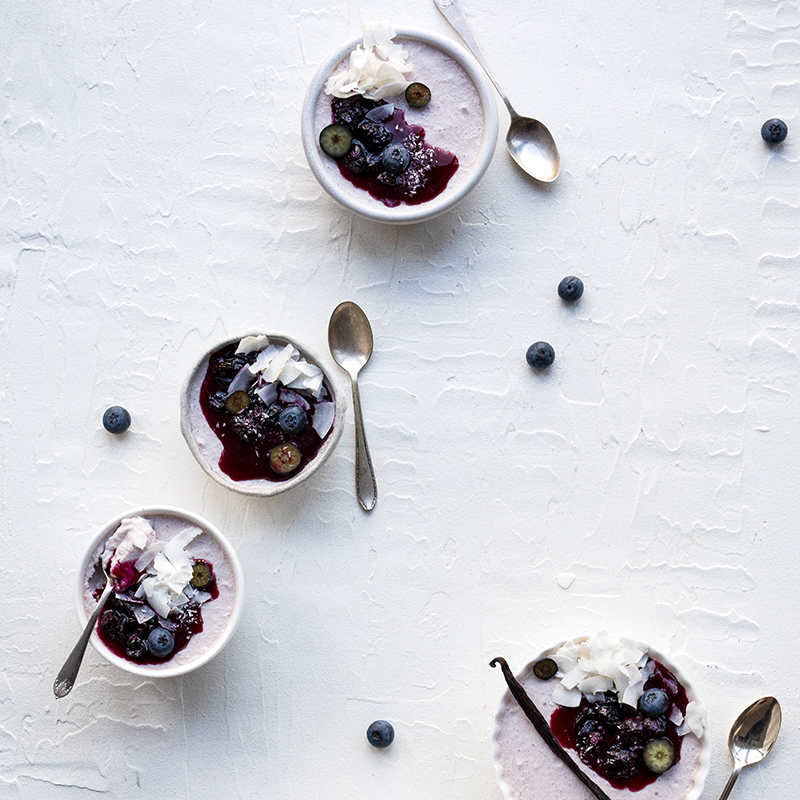 Ingredients
270ml tin coconut milk
1 tbsp agar agar powder
730ml The Culture Co. Blueberry Kefir
1 tsp vanilla bean paste
Fresh blueberries, to decorate
Coconut flakes, to decorate
BLUEBERRY COMPOTE
½ cup fresh or frozen blueberries
2 tbsp caster sugar
60ml water
1 tsp vanilla bean paste
Directions
NOTE
You will need to begin this recipe at least 6 hours before
STEP 1
To make panna cotta pots, add coconut milk to a small saucepan. Whisk in the agar agar then place over a medium heat, bring to a boil then reduce heat to low and allow to simmer for 5 mins, whisking regularly.
STEP 2
Allow coconut milk mixture to cool slightly then whisk in the kefir and vanilla bean paste. Pour into 6 small dishes and place into the fridge for at least 6 hours to set.
STEP 3
To make blueberry compote, combine all ingredients in a small saucepan over medium heat. Cook, stirring regularly, for 5-8 mins until sugar dissolves and blueberries just start to collapse.
STEP 4
To serve, spoon compote over the panna cotta pots. Decorate with extra fresh blueberries and coconut flakes and serve immediately.