Exotic Mushroom and Thyme Savoury Porridge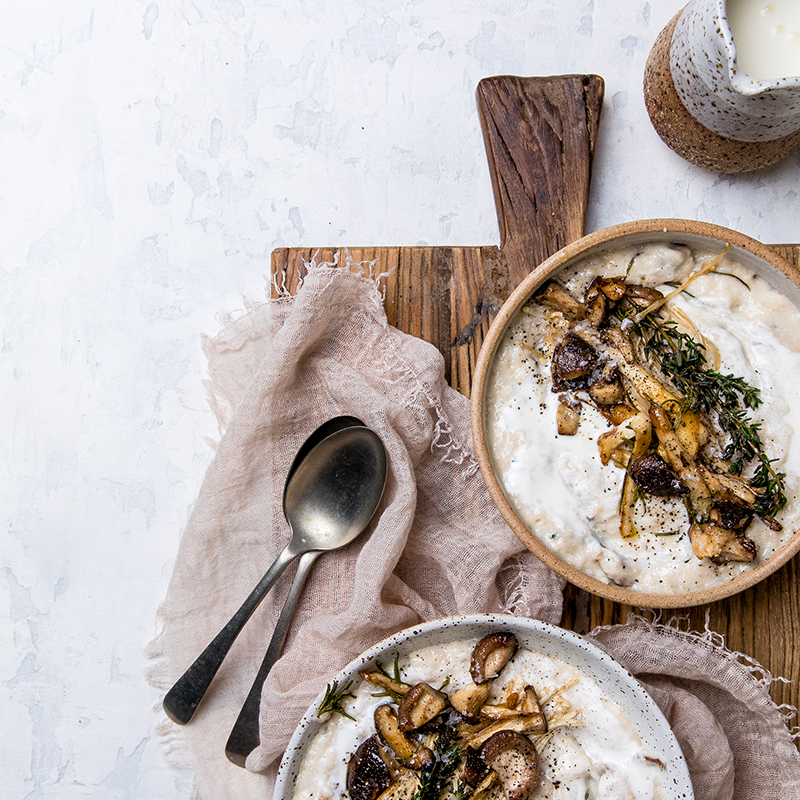 Ingredients
PORRIDGE
1 tbsp sea salt
3 tbsp semolina
1 cup rolled oats
2 tbsp butter
MUSHROOM TOPPING
1 tbsp olive oil
3 tbsp butter
300g mixed mushrooms (we used Swiss brown, king trumpet, shitake, and enoki), large mushrooms roughly torn into smaller pieces
3 cloves garlic, crushed
4 sprigs thyme, leaves picked
1 sprig rosemary, leaves picked and roughly chopped
1 cup The Culture Co. Natural Kefir, plus extra to serve
Sea salt and freshly cracked black pepper
Directions
STEP 1
In a medium, heavy-based saucepan add salt to 1L water and bring to the boil. Reduce heat to very low then whisk in the semolina. Add oats and cook for 25 mins, stirring regularly until the oats are soft. Remove from heat and stir through the butter.
STEP 2
For the mushroom topping, heat olive oil and butter in a large frypan over medium heat until the butter is melted and foamy. Add mushrooms and fry for 2-3 mins, tossing every minute or so, until the mushrooms are golden and have absorbed most of the butter. Add garlic and herbs, season generously then fry for a further 1-2 mins until fragrant.
STEP 3
Stir kefir through the cooked porridge then fold through most of the mushroom mixture (reserve some of the mushrooms to decorate the top). Divide porridge between bowls and top with remaining mushrooms and a little more salt and pepper. Serve immediately.