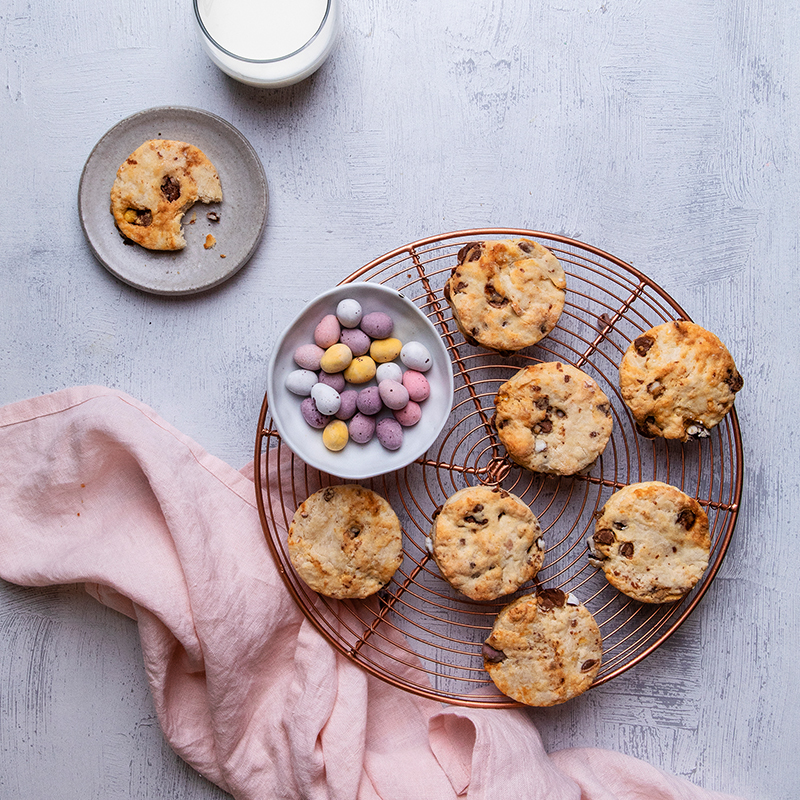 Ingredients
200g The Culture Co Natural Kefir, plus 2 tbsp extra

400g plain flour, plus a little extra to dust

120g cold butter, cut into very small cubes

1 tbsp plus 1 tsp baking powder

½ tsp bicarbonate of soda

½ tsp sea salt

100g solid mini Easter eggs, roughly chopped
Directions
STEP 1
Preheat oven to 230ºC (210ºC fan). Line two baking trays with baking paper or silicon baking mat.
STEP 2
Mix together the kefir and flour until it comes together as a shaggy mess. Add butter and use your hand to work the butter into the flour, rubbing it between your fingertips, until there are no more large chunks of butter.
STEP 3
Add baking powder, bicarbonate of soda, sea salt and chocolate chips. Add the extra 2 tbsp kefir then, in the bowl, knead together all the ingredients until combined.
STEP 4
Lightly dust a clean work surface with flour. Turn the dough out onto the surface and use a floured rolling pin to roll out the dough to about 30-35cm in diameter. Use a 7cm round cookie cutter to cut 20 rounds from the dough (you may need to gather the scraps and re-roll the dough to get 20 rounds).
STEP 5
Transfer rounds to the prepared baking sheets and bake 10-12 mins or until golden brown.