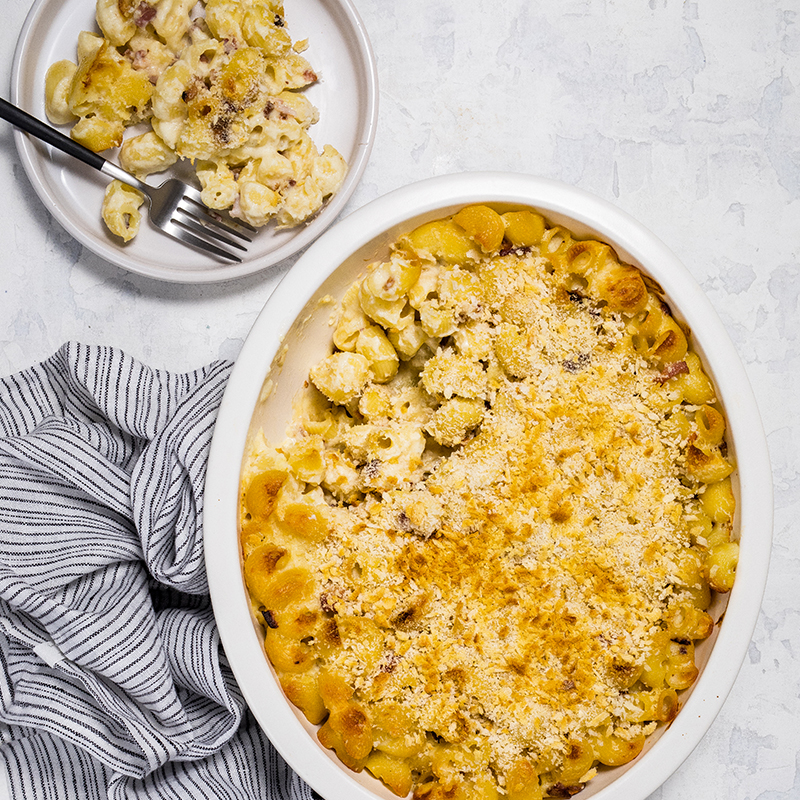 Ingredients
500g elbow high-fibre pasta
50g butter
50g plain flour
250ml milk
750g The Culture Co. Natural Kefir
150g grated parmesan cheese
150g grated mixed cheeses (tasty, mozzarella etc.)
3 rashers short cut bacon, finely chopped (optional)
White pepper and sea salt flakes
⅓ cup panko breadcrumbs
Directions
STEP 1
Preheat a fan forced oven to 200ºC
STEP 2
Bring a large saucepan of water to the boil. Once boiling, add pasta and cook for ¾ of the recommended time on the pasta pack. Drain and set aside.
STEP 3
Meanwhile, to make the sauce melt butter in a medium sized saucepan over medium heat. Add flour, whisking well and allowing to cook for about 1 min before adding the milk, whisking until it is incorporated. Add kefir, ¼ cup at a time, whisking well between each addition until all the kefir is incorporated and you have a smooth sauce. Add the cheeses and stir well until cheese melts and sauce becomes oozy. Season to taste with salt and white pepper then add the pasta and stir to coat.
STEP 4
Fry bacon in a small, non-stick frypan until crispy then stir through the pasta mixture.
STEP 5
Spoon pasta mixture into a large, deep oven proof dish then sprinkle evenly with breadcrumbs and bake for 35-40 mins or until golden and crispy on top.