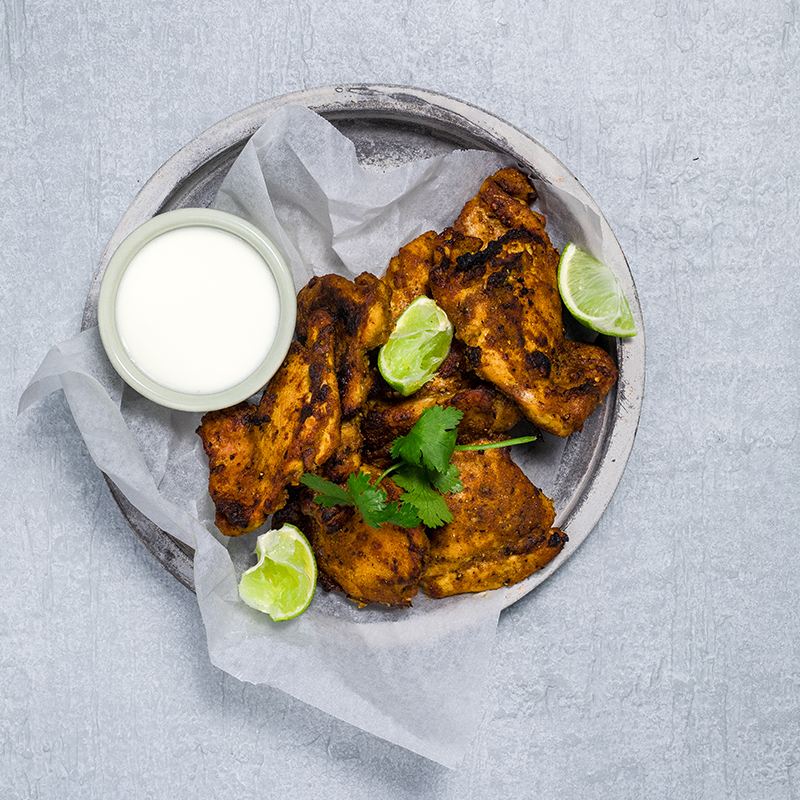 Ingredients
1.5kg chicken thigh fillets, boneless and skinless
250g The Culture Co. Natural Kefir, plus extra, to serve
60ml rice bran oil
Juice from 1 lime, plus extra lime wedges to serve
1 tbsp finely grated ginger
3 tbsp finely grated garlic
2 tbsp ground coriander
2 tbsp garam masala
2 tbsp mild paprika
2 tbsp salt
1 tbsp ground cumin
1 tbsp turmeric
½ tbsp chilli powder
TANDOORI RUB
1 tbsp ground fenugreek
1 tsp ground black pepper
1 tsp ground cumin
1 tsp ground coriander
1 tsp onion powder
Directions
NOTE: You will need to begin this recipe the night before to marinate
STEP 1
Make 3-4 light cuts in each thigh. Place into a non-reactive container with a lid.
STEP 2
In a bowl whisk together kefir, oil, lime juice, ginger, garlic and all the spices (except tandoori rub spices). Pour over the chicken, use clean hands to rub the marinade into the chicken then cover and refrigerate overnight to marinate.
STEP 3
Preheat oven to 260ºC (240ºC fan forced). Remove chicken from marinade, use a clean paper towel to wipe off excess marinade. Arrange chicken thighs on a lined baking tray.
STEP 4
Combine all tandoori rub spices in small bowl then sprinkle on both sides of the thighs. Roast for 25 mins, turning every 5 mins, until chicken is cooked through.
STEP 5
Preheat the oven grill to high and grill thighs until charred. Allow to rest for 10 mins before serving with extra kefir and lime wedges.