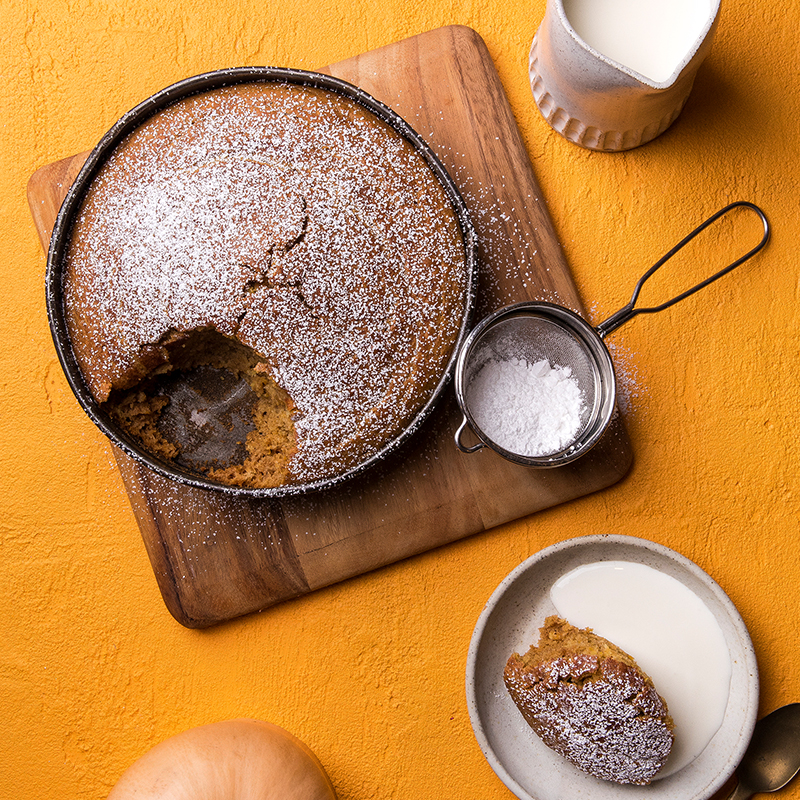 Ingredients
300g peeled butternut pumpkin, cut into 2cm cubes
2 tsp bicarbonate of soda
60g butter, plus extra to grease tin
1 tsp vanilla bean paste
2 eggs
200g The Culture Co. Natural Kefir, plus extra to serve
300g self-raising wholemeal flour
70g cinnamon sugar
Icing sugar, to serve
Directions
STEP 1
Steam pumpkin until soft, drain any excess water. Add bicarb, butter and vanilla bean paste and mash until smooth. Set aside to cool completely.
STEP 2
Preheat oven to 180ºC (160ºC fan).
STEP 3
Whisk together eggs and kefir. Once the pumpkin puree is cooled, stir through the egg and kefir mixture then add flour and cinnamon sugar and mix until just combined.
STEP 4
Grease a 20cm round baking tin. Spoon the mixture into the pan, gently tap on table to smooth the surface then bake for 40-45 mins until a skewer inserted in the centre comes out clean.
STEP 5
Serve dusted with icing sugar and a generous drizzle of kefir.