Rainbow Veggie Sushi with Satay Dipping Sauce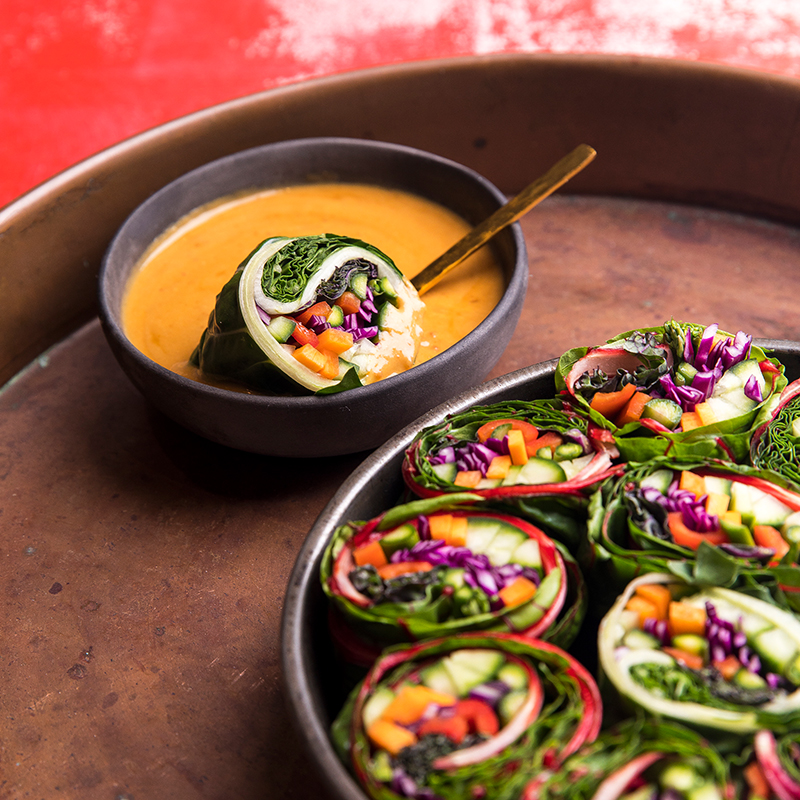 Ingredients
SUSHI
1 big bunch of rainbow silverbeet (substitute regular silverbeet), try to choose a bunch with nice, big leaves!

1 Lebanese cucumber, washed and cut into matchsticks

1 carrot, washed and cut into matchsticks

½ red capsicum, washed, deseeded and cut into matchsticks
6 asparagus spears, washed and cut into matchsticks

Purple kale, 2-3 leaves roughly torn into smaller pieces

1/8 small red cabbage, thinly shredded
KEFIR SATAY SAUCE
200g The Culture Co. Natural Kefir

3 generous tablespoons crunchy peanut butter

2 tsp Thai red curry paste

1 tbsp fish sauce

1 tbsp lemon juice

2 tsp brown sugar

2 tsp kecap manis
Directions
STEP 1
To make the sauce, simmer together the kefir, peanut butter and curry paste for 2-3 minutes. Add 125ml water, fish sauce, lemon juice, sugar and kecap manis. Stir for 1 minute on medium heat and then pour into a bowl to cool while you prepare the sushi.
STEP 2
Thoroughly wash silverbeet leaves in hot water to gently soften. Use a small, sharp paring knife to shave some the thickness away from the silverbeet stalks – this makes them easier to wrap).
STEP 3
Gently dry the silverbeet leaves then lay them out on a clean surface with the shortest lengths facing you. In the centre of each leaf make a small mountain of cucumber, carrot, capsicum and asparagus matchsticks. Top each with a small piece of kale and a pile of shredded red cabbage then fold the bottom quarter of the leaf over the filling. Fold over the sides, one at a time, then tightly roll up like you would a burrito.
STEP 4
Cut each wrap in half then serve with the cooled satay sauce to dip.