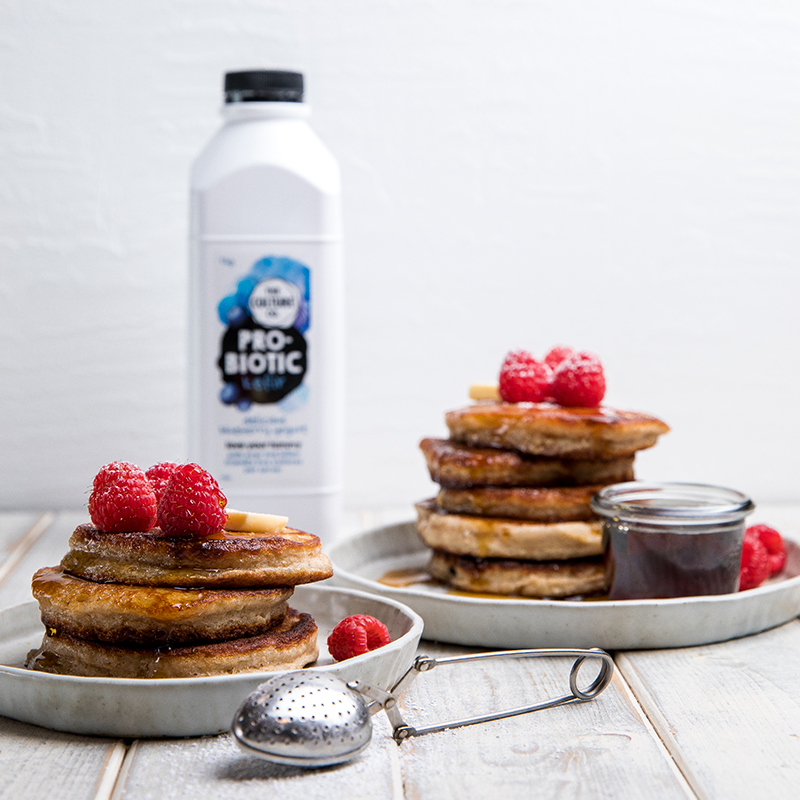 Ingredients
300g wholemeal flour

1 ½ tbsp baking powder

1 tbsp caster sugar

Pinch of sea salt

500ml The Culture Co. Blueberry Kefir

2 eggs

4 tbsp olive oil, to fry

Raspberries, maple syrup and lemon juice, to serve
Directions
STEP 1
Combine flour, baking powder, sugar and salt in a large bowl. Mix well.
STEP 2
Whisk together the kefir and eggs. Make a well in the centre of the flour mixture and pour in the kefir mixture. Use a spatula to stir until just combined.
STEP 3
Heat 1 tbsp oil in a cast iron pan (or non-stick pan) over medium heat. Scoop ¼ cup sized portions of the batter into the pan, cooking 3 at a time. Cook for 2-3 mins until the surface bubbles then flip and cook for a further 90 seconds. Repeat with remaining batter.
STEP 4
Serve warm with raspberries, maple syrup and lemon juice.